US Magazine International Subscriptions
We can offer you magazine subscriptions on popular titles for the same price as for US subscribers. We will charge you modest fee of $1 per issue for receiving, storage, handling and shipping out in bulk (plus the actual postage). This way you can save lots of money compared to International subscriptions, you can subscribe several titles for the price of one International subscription and even don't have to prepay postage for whole year but pay the postage as you ship your magazines home.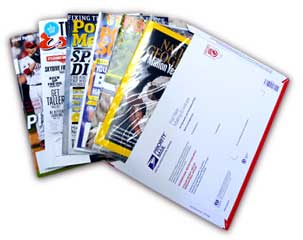 And there is more, while usual International subscriptions are being handled as media mail that is carried in postal bags as the worst sort of mail, it takes upto 3 weeks to deliver to destination country. On contrary we provide upper class shipping by Priority Mail in cardboard envelopes for the same price and our shipments are usually delivered within a week into most countries. While these shipments are still treated as Media Mail there are no taxes upon arrival to destination country.

You can pick upto six magazine titles to be shipped at the same time, or you can even start your own subscription business in your country and ship in flat rate boxes bulks of magazines.

Approximate price of shipping for one magazine either in envelope or flat rate box is about $3.80 (fashion magazines are more expensive due to their weight), while most of the magazines subscribed for whole year are in price range of $1.00 per issue you will still get lower price than if you would buy the magazine in US newsstand - but you get it shipped Internationally with Priority Mail.

You can view and edit your magazine subscriptions in User Administration, you will be also informed about upcoming expiration of each of the active subscriptions.

Magazine subscriptions can be paid from user account balance or directly through Paypal or credit card.

You can use Standard Account for subscriptions as well, you don't pay mailbox rental for magazine storage. Each issue can be stored upto 365 days.


We have selected for you 300 of the most popular titles and adding new ones on weekly basis. Browse through the categories, pick your favorite titles and subscribe today.

Remember that first magazine will arrive to your mailbox in about 6-9 weeks from the date of subscription.




Selected popular magazines
Backcountry
issues: 6/ months: 12
Price:$35.70

$19.95

($3.33/issue)



Archaeology
issues: 6/ months: 12
Price:$29.94

$20.00

($3.33/issue)



Salon Today
issues: 9/ months: 12
Price:$45.00

$45.00

($5.00/issue)



Sport Fishing
issues: 9/ months: 12
Price:$49.99

$19.97

($2.22/issue)


Bonus Points: 8.00 ... what are bonus points?
How
issues: 4/ months: 12
Price:$65.70

$29.96

($7.49/issue)



Batman Comics
issues: 12/ months: 12
Price:$35.88

$33.99

($2.83/issue)



National Geographic
issues: 12/ months: 12
Price:$71.88

$25.00

($2.08/issue)



Dog World
issues: 12/ months: 12
Price:$59.88

$28.00

($2.33/issue)



Truck Trend
issues: 6/ months: 12
Price:$29.94

$10.00

($1.67/issue)



Bon Appetit
issues: 12/ months: 12
Price:$54.00

$19.99

($1.67/issue)



Haven't found the magazine you were looking for?
Inquire for your favorite topic and we will try to find the magazine subscriptions for you
---

Frequently Asked Questions regarding Magazine Subscriptions